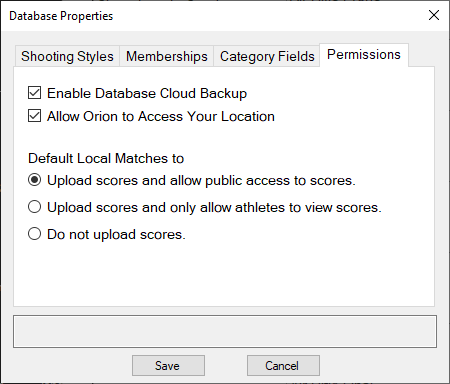 The Permissions tab has a variety of options to help tune some sharing and security settings for your needs.
Permissions Explained:
Enable Database Cloud Backup

When checked, Orion will backup your athlete database and history to the Orion cloud.

Allow Orion to Access Your Location

When checked, Orion will attempt to identify your geo-location to serve relevant match information for Orion Results and the Orion Mobile app.

Default Local Matches To:

•Upload Scores and allow public access to scores.

•Upload scores and only allow athletes to view scores.

•Do not upload scores.

See the table in Match Sharing (Orion Results) Definitions topic for more information.

Load Definitions from Cloud

(coming soon)

By Default Orion always tries and load Reconfigurable Rulebook definition files from your local hard drive first. If it can't find the definition file, only then will it try and download from Orion's cloud. By selecting this option Orion will always try and download the definition files first, bypassing the local file system.

This property is not sticky, meaning it has to be set each time Orion opens.

Check for New Definition File Versions on Match Open

(coming soon)

When checked, Orion will read the Reconfigurable Rulebook definition files from disk first. Then it asks Orion's cloud for the latest version number. If any definition file stored locally is out of date, Orion will ask if you want to download and update. Unchecking this option prevents Orion from asking the Orion cloud.