Follow the steps in this section ONLY if you are not using barcode labels, or Orion could not read a barcode label on a target. If all targets were correctly assigned to their respective shooters, these steps may be skipped.
There are actually many ways to assign targets to an athlete. This setup guide only covers two of those methods. For a complete list and explination, visit section 5.7 in the Orion's full User Manual. Manually assigning targets, as listed below, is only necessary to complete if barcode labels are not used (such as Orion at Home customers) as described in this guide. All unassigned targets appear at the top of the target list on the Match Scoring tab.
To manually assign a target to a shooter, follow these steps:
1.Select the first target by left-clicking the target in the target-tree view on the left-hand side of the Scoring tab. This will also bring up the target image on the right-hand side.
2.Right-click the same target to bring up the target's pop-up menu. Select Assign To from the menu.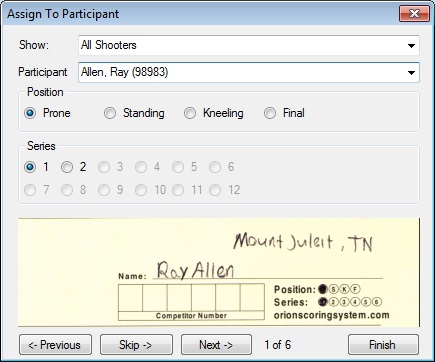 3.The Assign To form shows an image of the competitor information fields on the target. Using the image that is displayed, select the corresponding shooter from the drop-down list of competitor names. Also select the correct position and stage. Once correct, select Next to continue.
4.Continue this process until all targets have been assigned. Orion will let you know when this occurs. If you are not sure about a particular target, you may select Skip to move to the next target.
5.Click Finish once you are done.